Imagine this – you just purchased a brand-new computer with the Windows 10 Home OS. You are ready to conquer the world with your productivity and enhanced levels of collaboration. Time to leave your colleagues and competitors in the dust!
But hang on. Do you have Windows 10 Home licensing to ensure your device is working to the best of its potential? Only with this license key can you use all the features your computer has to offer. You will have to work in restricted mode and access very limited features if not for the key.
Not to mention the frustrating watermark on your desktop reminding you to activate your Windows 10 license key. Read on for a complete guide to install Windows 10 Home and make use of all its features with a product key.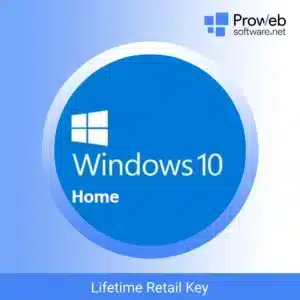 Understanding Windows 10 Home Licensing
Windows 10 Home is designed for casual users, offering a balanced blend of simplicity and functionality. To acquire a Windows 10 Home license, you have several potential avenues. You can opt for a physical copy, a digital download, or even a product key delivered via email.
Just ensure that your key is purchased from reputed sources. This way, you can approach them later if you need help and rest assured that you have a valid key. The best part is how your Windows 10 Home licensing can last a lifetime if you invest in it from authentic sources.
How to Install Your License Key
If you have already purchased your license key while buying your PC, this entire process is not required. You can start the installation process once you have purchased your Windows 10 Home license.
Before you start this process, get started on backing up your important data. Try to move or copy them to an external source like a USB or DVD you have. You might not lose any data or files during the process, but it's always best to stay safe.
Insert your installation media to get started and follow the instructions provided on-screen. When you are prompted to enter the product code, use your Windows 10 Home 64-bit license key.
Enter it accurately to continue the installation process. If you come across any issues, don't worry. You just have to enter the code again and ensure it is free of any typos or errors. If this isn't the issue, try checking if your key is compatible with your OS and Windows 10 edition.
Activation Process
Upon successful installation, your next step is activation. Windows 10 Home requires activation to unlock its full features. To activate, head to the Activation tab available under Update and Security.
The familiar Windows 10 OS makes this step easy to navigate. Just source your Start menu and head over to the Settings app to find these tabs. Here, you can change the product key and enter your new code.
Windows will verify the key, and if all checks out, your version of Windows will be activated. If you have the right and legal Windows 10 Home licensing, this entire process shouldn't take more than a few minutes.
How to Troubleshoot Issues
Even in the most streamlined processes, hiccups can occur. Here's a troubleshooting toolkit to navigate common activation issues:
Check Internet Connectivity
Activation requires an internet connection. Ensure your device is connected to the internet before attempting activation.
Verify Key Accuracy
Failures in activation can result from typographical errors. Verify again that you typed your Windows 10 license information accurately. You might have typed the wrong code or the improper sequence in some circumstances.
Reboot and Retry
Sometimes, a simple restart can resolve activation glitches. You may just have to restart the system for your device to detect the changes the key has made. If not, then attempt the process again from scratch after restarting your computer.
Try Using the Troubleshoot Tool
You don't need to visit any external sites to troubleshoot issues. Windows offers a built-in Troubleshooter you can use to diagnose the issue and resolve it.
Contact Support
If all else fails, you have to contact Microsoft's support facility. They can guide you through the troubleshooting process or whatever issue you are facing. If you chose to buy a Windows 10 Home license key from any other source, contact the service provider for assistance.
Where to Buy Windows 10 Home License Key
Navigating the marketplace to acquire a legitimate Windows 10 Home license key requires caution. Stick to reputable sources such as the Microsoft Store, authorized retailers like Pro Web Software, or well-known online platforms.
Before purchasing from a particular source, research the seller's reputation. Look for customer reviews and ratings to gauge their credibility. After acquiring your Windows 10 Home licensing, keep the proof of purchase in a safe place.
Some places you can confidently buy your key are:
Microsoft Store
The official Microsoft Store is a trustworthy source for buying Windows 10 Home license keys. You can buy both physical copies and digital downloads directly from Microsoft. This is the best option as it is reliable and you can opt for support later. The team can guide you while purchasing and offer consistent support even later.
Authorized Retailers
Established retailers that specialize in software and technology often carry genuine Windows 10 Home licensing. Their credibility ensures a legitimate purchase that will last you a lifetime. If you are a newbie and don't know much about licenses, it is best you approach such retailers.
Online Marketplaces
Platforms like Amazon, Newegg, and Best Buy offer a variety of options for your Windows 10 Home license. Always opt for sellers with positive reviews and high ratings. Never settle for the first option you find – compare prices and ask around to know how good a company is.
Benefits of Legitimate Licensing
Choosing to acquire a legitimate Windows 10 Home license goes beyond mere legality – it offers an array of advantages. Legitimate keys provide access to regular updates and security patches from Microsoft, ensuring that your device remains protected against evolving threats.
You'll also gain access to customer support, enabling you to seek assistance when faced with technical issues or queries. Furthermore, legitimate licensing supports the ongoing development of the Windows ecosystem, fostering innovation and improved user experiences.
Legitimate Windows 10 Home licensing guarantees your ability to use the operating system over the long term. Unauthorized or pirated keys can lead to unexpected disruptions, as Microsoft frequently detects and deactivates such keys.
By investing in a genuine license, you secure uninterrupted usage, consistent updates, and access to new features. You can also keep your system and privacy secure with security patches and bug fixes that Microsoft rolls out periodically.
FAQs
What is a Windows 10 Home license?
Consider your license key as a way to convey that your OS is an authentic one. You may have an unauthentic copy of the OS or an invalid one. To prevent this and access all the features available, you need a license key to activate the system.
How do I find out if my key is authentic?
Genuine Windows 10 Home licensing can be obtained from reliable online markets, authorized shops, or official websites like the Microsoft Store. Genuine keys have a holographic Microsoft logo, a proof of purchase, and can be validated using Microsoft's official activation procedure.
Can you use the same key on a new device?
Yes, it is possible to use the same key on a new device, but review the key's licensing agreement first. As long as the key is taken out of the previous computer, you can transfer it to the new one. To prevent any policy violations, you must make sure that your key is only active on one device at a time.
What will happen if I don't activate my key?
Your device will end up working in a restricted mode if you don't activate your license key. This means you can't use all the features and functions that you paid for. Your device's full potential will not be unlocked and you will keep receiving periodic reminders to activate your system.
Can you upgrade your device to a different edition using the same key?
Yes, you can upgrade from Windows 10 Home OS to a higher edition using the same product key. This could be the Pro or Enterprise editions. Some users have even mentioned how they could upgrade to Windows 11 after consistent upgrades and updates. However, this requires a valid and genuine license key for the edition you're upgrading to. A Home license will not work for a Pro edition OS.
Conclusion
Acquiring and activating your Windows 10 license key is not just a technical process. It is the key to unlocking a world of possibilities. From installation to activation and troubleshooting, you can now navigate the tech world with confidence and clarity.
As you embark on your Windows 10 journey, we hope this guide was your reliable companion. You are now ready to purchase your Windows 10 Home licensing and enhance your computing experience.
Latest posts by Rimmy Luthra
(see all)