Microsoft Windows 10 Professional
License Key (Activation Product Key)
Instant Key Delivery Format : XXXXX-9XXXX-QXXXX-HXXXX-9XXXX
LIFETIME ACCESS
You will receive an email with your license and download link.
Microsoft Windows 10 Pro – best for small businesses that want enhanced functionality.Windows 10 Pro provides all the features of Windows 10 Home + powerful management tools and enterprise grade security.
All Languages – Lifetime License  | One Time Payment
Want enhanced functionality ?
An intuitive user experience, with built-in tools such as inking, tablet mode, and touchscreen.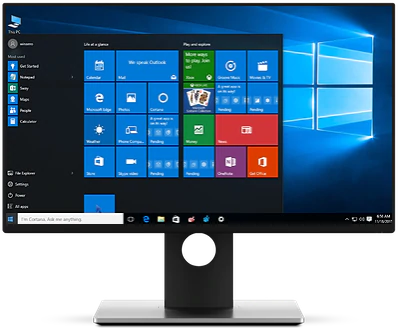 Windows 10 brings back an old favorite with the Start Menu for ease of access and quick lookup. It also features Cortana for voice assisted control in the start menu.
With Windows Continuum you don't have to choose between mobility, touch or desktop peripherals. Continuum allows for devices running Windows 10 to switch between tablet and adding keyboard and mouse for desktop mode.
| Feature | Description |
| --- | --- |
| INCLUDED PROGRAMS  | Microsoft Windows 10 Professional |
| LICENSE DETAILS  | Lifetime |
| INSTALLATIONS INCLUDED  | 1 Installation |
| LICENSING TYPE  | One-time Payment |
| LICENSING TERM  | Lifetime |
| BRAND | Microsoft |
| DELIVERY METHOD  | Email |
| ESTIMATED DELIVERY TIME  | 10-15 mins |
| PLATFORM SUPPORTED  | Desktop / Laptop |
| REQUIRED HARD DRIVE SPACE  | 64 GB |
This product is a brand new Windows 10 Pro product key, a genuine Retail Key for Microsoft Windows 10 Professional Edition.  We also offer a full legal download of the software via Microsoft, as detailed below.
HOW IT WORKS
1. First, purchase a genuine Windows 10 Pro Retail Key from our website.
2. Immediately after your payment, you will be automatically sent a Windows 10 Pro digital Key.
3. Download the Windows 10 installer from the official Microsoft website, by clicking HERE.
4. Follow the instructions on the Microsoft website to download and install Windows 10
5. Once installed, enter the unique activation code that you purchased from us.
6. The Retail Key will authenticate with Microsoft automatically, and the activation is complete!  You now own a genuine copy of Windows 10 Pro.

WHAT IS THIS PRODUCT?
This is an unused, brand new Windows 10 Pro Retail Key, which can be used to activate the operating system legitimately.
Note: If you do not own an installation DVD or USB drive, please download the respective system setup file from the official Microsoft website, HERE.
In stock now with instant delivery!
This Windows 10 Pro key is multi-language and region free.  This means that the Retail key will function worldwide.
HOW DOES THE PURCHASING PROCESS WORK?
First, simply check-out using any of our payment methods (Paypal or Credit Card ).  After your payment, you can then collect your code from your email.  After you collect your Windows 10 Pro Key, you will be presented with your unique Windows 10 pro activation code.
When will I receive the key(s)?: You can get the license key via email within 1-12 hrs. If you haven't received the key for hours, please check the spam or junk mail folder.
Notes: CAN'T upgrade from Home system to Pro system, You should download the windows 10 pro system first , after you installed it, then to activate the code:
In case of a problem with activating the product, you can also use the automated phone system to activate.
This version of Digital key works only on new installed Windows. If you purchase this KEY, you will need to re-install your Windows. Windows 10 Professional Edition License – RETAIL DIGITAL Instant product key
This product is valid for activating both 32 and 64 bit versions of Windows 10.