Microsoft Office 365 Pro Plus Account 5 PC Lifetime
This is a NEW account, there is no CD/DVD, physical copy, license key, or serial code! If you have any questions or concerns, please send us a message before buying.​​​​​​​​​​​​​​​​​​​​ You can get the details and information in the delivery eMail

Instant Delivery Format : login / password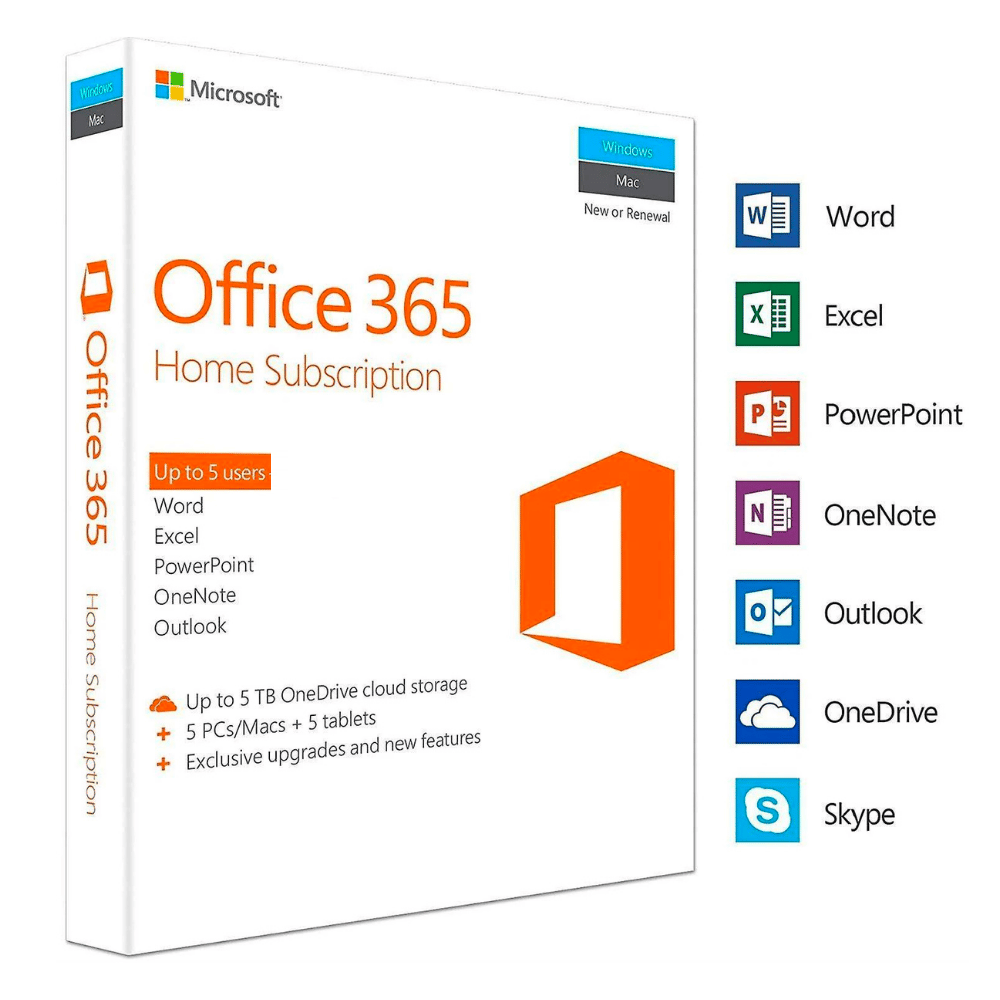 Microsoft Office 365 Pro Plus Account 5 PC Lifetime | Full Version Download Online
One time payment that includes premium Office apps, 5 TB of cloud storage, and advanced security for email and files.*
Windows, Mac, iOS, and Android
With Microsoft 365 you can:
• Get design and writing suggestions and templates, stock photos, icons, and fonts in Word, Excel, PowerPoint
• Access and share files and photos across your devices
• Know files are protected with built-in ransomware detection and recovery; most important files are protected with two-step verification in OneDrive Personal Vault
• Gain access to new features as soon as they're released
All Languages – Lifetime License | Compatible with Windows, Mac & Tablets | One Time Payment
Office 365 is now Microsoft 365. New name, more benefits.
$54.95 ONE TIME PAYMENT – LIFETIME LICENSE
What You Get With This Purchase
Use Software On Up-to Five(5) Devices
One Time Purchase With No Subscription Required
Plan On Getting A New Device? No Problem – Can be Transferred to another PC.
Office 365 account (Instant Delivery Format : login / password)
Activation instructions will be emailed after purchase.
Please Allow 5 minutes after purchase for download to me emailed to you.
Access to all Microsft apps including 5TB storage on OneDrive
Listed Format Of All Apps
Access
Excel
Word
OneNote
Outlook
Sway
Bookings
Delve
GroupMe
Microsoft PowerApps
Microsoft Teams
Microsoft To-Do
PowerPoint
Power BI
Project NOT INCLUDED
Publisher
Visio
OneDrive
Forms
Classroom
Flow
Planner
Microsoft Stream
SharePoint
Yammer
$54.95 ONE TIME PAYMENT – LIFETIME LICENSE
Listed Format Of All Apps
$54.95 ONE TIME PAYMENT – LIFETIME LICENSE
Listed Format Of All Apps
Microsoft Office 365 Professional Plus contains Word, Excel, PowerPoint, OneNote, Outlook, Publisher, Access, Sway, Forms, SharePoint, Delve, Yammer, PowerApps, Flow, Stream, Teams, Dynamics 365, Skype for Business and more. A common misconception with Office 365 is that, you need internet to use it. You will be able to use both OFFLINE & ONLINE
We  Guarantee that if you cant install it and our support team cant access  you get your money back.

Office Professional Plus offers a complete toolset for both individual and team productivity and connects users to essential business processes. The enhanced Enterprise Server Integration features provide out-of-the-box integration with Microsoft Business Productivity server solutions, including Microsoft SharePoint Server, Microsoft Exchange Server, and Microsoft Skype for Business Server creating new opportunities to collaborate within and across corporate boundaries, manage content more efficiently and streamline everyday business processes.
$44.95 ONE TIME PAYMENT – LIFETIME LICENSE
Easily manage your email, calendar, contacts, and tasks. Push email support keeps your inbox up to date, conversation view groups related messages, and calendars can be viewed side-by-side for planning.
Create and share professional-looking documents with state-of-the-art editing, reviewing, and sharing tools. The new Design tab provides quick access to features, and Smart Lookups shows relevant contextual information from the web directly inside Word.
Analyze and visualize your data in new and intuitive ways with a fresh user interface plus your favorite keyboard shortcuts. Leverage features like Analysis Toolpak, Slicers, and Formula Builder to save time, so you can focus on insights.
It's your very own digital notebook, so you can keep notes, ideas, web pages, photos, even audio and video all in one place. Whether you're at home, in the office, or on the move, you can take it all with you wherever you go while sharing and collaborating with others.
Access is an easy-to-use tool for quickly creating browser-based database applications that help you run your business. Your data is automatically stored in a SQL database, so it's more secure and scalable than ever.
Easily create, personalize, and share a wide range of professional-quality publications. Swap pictures with a simple drag and drop, or add pictures directly from your online albums. Use special effects to make your publications stand out.
$54.95 ONE TIME PAYMENT – LIFETIME LICENSE
First Click Buy Now
Check Your Email For Confirmation
We Will Then Send Email To Activate Your New Account. This consist of Username And Temporary Password Which You Will Change After Signin
Email Typically Arrives 5-8 Mins After Purchase ( we know you are in a rush)
We are Here to Support You With Activation Feel Free To Reach Out To Us Is there is Any Issue at contact@prowebsoftware.net
For more detailed instructions please visit => https://prowebsoftware.net/365-account-activation/
Product downloads are usually emailed out within 5 minutes of purchase. Please give up to 15 minutes to receive your email with the product and instructions.
$54.95 ONE TIME PAYMENT – LIFETIME LICENSE
Introducing Microsoft 365
Make the most of your 365 with premium Office apps, extra cloud storage, advanced security, and more.
All Languages – Lifetime License
Fully compatible with Windows, Mac & Tablets
$54.95 ONE TIME PAYMENT – LIFETIME LICENSE